Recommended SXSW Film: "Italy Love It or Leave It"
We here at the Baby! got a special treat for Valentine's Day, we screened the documentary ITALY LOVE IT OR LEAVE IT, which is part of the SXGlobal features at SXSW 2012.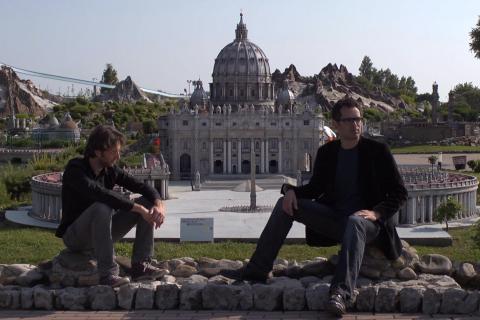 Luca and Gustav have to decide: should they stay in Italy, or leave it, like so many of their friends have done already. Looking for reasons not to do the same, the two Italians jump into their old Fiat 500 and go on a emotional trip through their country to find out: Italy, love it, or leave it?
Directed by Gustav Hofer and Luca Ragazzi, the film chronicles the travels of the two men as they travel throughout Italy examining the country and its issues from environmental, industrial, political, economic, and social perspectives. Along the way they discover beloved icons of Italian industry have either moved manufacturing to Romania or that the quality of life for the workers has diminished significantly. They also find rampant corruption and pollution of jaw-dropping proportions.
Along the way they also find gems of wisdom from creatives and politicians alike as to why one should stay and help to make things better rather than "running away". It is a brave exercise, I don't know that I would want to examine my own country so closely.
It's a thoroughly enjoyable film, and it's on our "must see" list. We think you should make time in your schedule to see it too.